Iyan - Pounded Yam
Adventure
A recipe has no soul. As the cook, you must bring soul to the recipe - Thomas Keller
Iyan (Pounded Yam) is a known and prestigious staple popular among the highly educated and illiterate Nigerian. Iyan is what Yorubas call it. In Lagos, Ogun, Ondo, Cross River and some other states, pounded yam is a choice food when having a traditional event like marriage, naming, chieftancy title awards, coronation of a new King and buffets. 
Iyan is made from pounding yam repeatedly with a club like cooking utensil called Pestle inside a bucket like cooking utensil (Mortar). The yam is first peeled then washed in clean water. It is then boiled till its soft and then placed in the mortar. The pestle is used to pound the boiled yam into a dough like staple that is high in vitamins, tasty, filling and a true dining experience. Pounded Yam is usually eaten with egusi, efo or whatever soup of choice comes to mind. (The Calabar white soup is a personal favorite).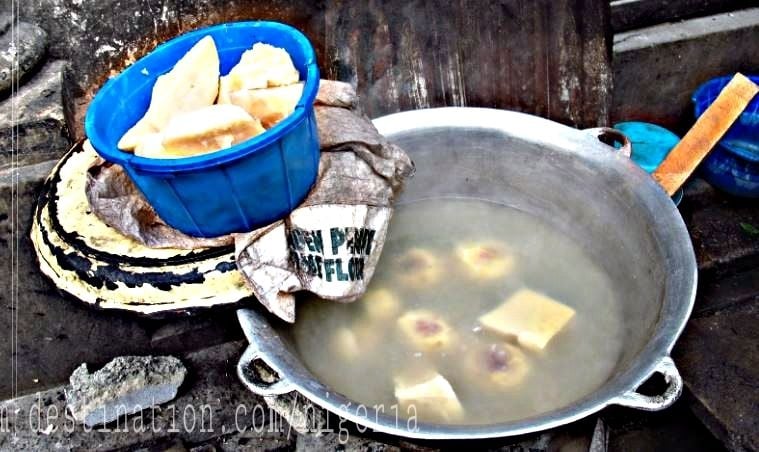 There are other ways to prepare pounded yam that are less stressful. You can use a machine that boils the pealed yam (you can test whether it is well boiled by using a fork), the machines blends the boiled (and soft) yam and mashes it up into your desired texture.  Another popular option you can go for is the Poundo Yam powder where the yam has been dried and packaged for export. This is the more popular option even within Nigeria. In Nigeria today, projects, innovations have begin to arise on finding the best yam pounding machine that will not be stressful, fast to process, hygienic and affordable. 
Most people prefer the traditional method of pounding yam however. You will hear a Yoruba speaking Nigerian tell you "if it's not pounded yam, it can't be pounded yam", letting you know he doesn't subscribe to any other method of pounding yam. This is because the output is different and the taste better as well. The wait for pounded yam is quite long and teasing but someone who knows what he or she is doing will almost complete two batches before you finish a meal.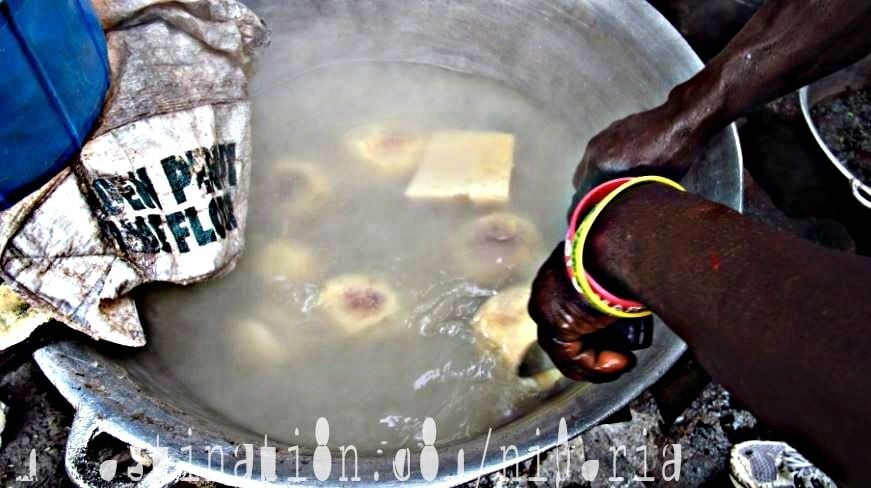 HINT: You can get pounded yam at any restaurant with an African or Nigerian menu
Pounded yam isn't ingenious to Nigeria, it is also a favourite celebratory food in other parts of Africa amongst countries like Benin, Ghana(Northern regions), and Ivory Coast. The choice of soup is what differs as each part (tribe or country) has its own cultural soup for pounded yam. The Yorubas from the South West of Nigeria are good with Egusi soup or Efo Riro while the Calabars favour White soup. The Edo people like Ogbono, Ghanaians use light soup or groundnut soup. 
There is also a slight preparation in some places on how they achieve their final pounded yam in terms of color and texture. Some people add plantain while others add potato to give it a different taste, color and texture.
You can get poundo yam from Amazon($49.20), African Shop($4.95). There are a number of yam pounders in the market like Osuji, Peak yam pounder. The machines come with well written manuals and/or how to use instructions. Make sure you familiarise yourself with the process before using.