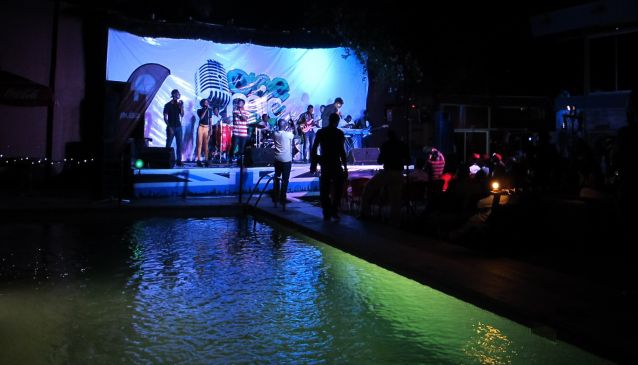 OneMic Naija
Adventure
The best hosts in town KB & Kel came on stage accompanied by a grand entry theme
OnemicNaija's anniversary took place at Ember Creek, Ikoyi and it featured Iyanya owned Triple MG. The show started a little after the indicated time but this allowed football fans & people coming from afar meet the kick off of the show.
The best hosts in town KB & Kel came on stage accompanied by a grand entry theme from the Onemic Naija band (also one of the best in town). The hosts thanked everyone for coming and gave the line up for the night and what to expect. They painted the picture of a fun & entertaining evening from the performers, the OneMic Naija band, and the Open Mic session.
The first performer of the evening Charass started the evening well with a slight eastern accent. He made sure he worked some of magic into the audience with his voice, theatrics and stage presence. After Charass was former Nigerian Beauty Queen & Rapper.
"....body of a goddess & mind of a hustler...".
Muna isn't your average bimbo queen. She was real steel under and she showed how much spark with the band. Onemic Naija is the event to be at because there is a connection created with the band that isn't found in most shows in Nigeria today. The chemistry between band and performer creates a vibe that can be seen clearly as everyone plays his/her part in relation with others & brings real harmony.
Muna is a rapper & a singer from Owerri, Nigeria. She worked the stage and at a point was commanding the same finesse as Beyonce live on stage. At this point, she invited Lamborghini on stage with her. I didn't think the performance could get any higher but with Lamborghini on stage, it only got better with their duo presence. Muna is someone you want to see perform. She didn't dance as much as I wanted but that's ok as one of Nigeria's female MCs. She moved enough to inspire a fan to run up stage and grind some dance moves with her. It was sad to see Muna's performance end but we still had the Triple MG to see & the Open Mic session was next.
The Open Mic session was introduced shortly after Onemic Naija started. It is a part of the show where anyone from the audience can come on stage & either sing, rap, dance or do anything. The same audience was going to judge from the pool of hopeful Open Mic contestants. The Open Mic session is quite popular as some people never ever miss each one maybe because the winner(s) get prizes ranging from paid studio session with a known producer or a new smartphone to what the winners of the #Shutdownedition won. This session of the Open Mic session had 7 contestants, six boys & a girl.
TIP: If you are ever opt out for any Open Mic session, you will want the audience to connect with you within the first five seconds you start. You can get this by quickly singing the high notes of a favorite song to show you can sing or attach a catchy phrase the audience can sing along to for you.
There were three winners at this session and they went home with Easy Taxi coupons for free rides courtesy Easy Taxi.
The Open Mic session was over, this means a free flow of performers to the end of the night.
Emma Nyra was next. She looked stunning in a yellow gown and boy did she dance in it. She showed herself as quite energetic and a good performer. Her harmony with the band brought about a performance that had two boys trying to get a quick dance with her. I love Onemic Naija. Your favorite musician drops all hype & will single you out to either perform live on stage (like Temi Dollface did at the February edition) or dance with you & give you your few minutes of lights & camera.
Up next was Selebobo, a producer & singer. Not totally sure what Selebobo means but I got a bit of the creative energy that Selebobo carried. From start to finish, he was having the audience groove to the sounds coming from the speakers. He was joined by Baci and together they sang some of their soon to be released singles. The Triple MG gang isn't sleeping.
Tekno was next & he let everyone know he is Hausa, or he spoke Hausa. He also showed his skills with the guitar and the keyboard. Tekno is a singer, dancer, multi instrumentalist and producer. All this with a fine boy face & great stage presence made his performance a highlight for the evening. It will be right to say the ladies were feeling the boy. He performed so well, danced so well, and made everyone know why he is the uprising star from the Triple MG.
Iyanya was up next and the "kunkere" master made sure he gave the ladies their moneys worth. A fan confessed she was there just to see him rip off his cloths. If you have seen Iyanya perform, you may know why the ladies scream during his performance. He didn't come with female dancers but you might not have known because ladies wanted to get up on stage and "kunkere" with him. His dance was energetic, even upto the point of getting down on his knees and doing the signature Iyanya dance from the Calabar tribe.
Iyanya sang Happy Birthday and gave a hug to a beautiful lady in the audience. She blushed all the way to her seat. When Iyanya performed "...omoge what's your flavor...", even the guys chimed in directing the song at any lady beside them. Baci and Iyanya knew how to fine tune a crowd (and they did it). Their energy backed up by the Onemic Naija band was fun, entertaining and definitely one of the highlights of the night.
The Triple MG members all joined Iyanya on stage and together they closed the show. Onemic Naija #Shutdownedition was over. The feeling of "is there more" went viral but the show had to come to an end with a promise to be back in two months time as is the tradition.
There were other Onemic Naija alumni performers in the audience, Aramide, Skales, Falzthebadguy could be seen having a good time. The venue Ember Creek looked alive, warm & cool. The warm breeze coming in from the waterfront gave the atmosphere the right amount of comfort to enjoy the show.
A very big congratulations, thanks & praises to the organizers of the event @thismetalkid, @thismetalchic, @tosynbucknor. You can follow @onemicnaija on Twitter & Instagram and like their Facebook page to see more of what happened at the show and to get updates on subsequent editions. You should also check their Youtube channel to watch their previous editions.
We have some pictures for you on our Instagram & Facebook pages. Were you at #OneMicNaija #ShutdownEdition? let us know what your best moments are. I enjoined Muna and Teknos performance.
Till the next Onemic Naija event, stay happy, having fun and #PromoteNigeria
Written by:
Sylvester Asenguah
PUBLISHED: Jan 22nd 2017 | UPDATED: Jun 9th 2017