Wonders of SouthWest Nigeria Part 1
Adventure
Southwest Nigeria is made up of 6 States and each of these states have amazing places of interest for you to visit. However in this article we shall be taking a trip to Ondo and Ekiti State both in the southwest region. In SouthWest Nigeria, their main language is Yoruba and their common food is the Pounded yam and Amala.
(You should also read: Agriculture in Nigeria)
Idanre Hills (Ondo State)
Ondo State (Sunshine State) is surrounded by hills and it is a 4 hour drive from Lagos. The State shares boundaries with  Edo and Delta States to the East; Ogun and Osun States to the West; Ekiti and Kogi to the North and Atlantic Ocean to the South. The major occupation of the locals is Agriculture and they produce cash crops such as: palm produce, cocoa and timber. These crops constitute seventy-five percent of the State's Gross Domestic product and sixty percent of Nigeria's annual cocoa output.
The State which is known for its many hills and mountains has one prominent hill that has become very popular and that is the Idanre hill. The Idanre hill is a 667 step hill which has over the years attracted both locals, foreign tourists, and religious groups because of the mysteries surrounding it. One remarkable thing about the hill is the footprints belonging to one of the early dweller of the hill called Agboogun. The footprints shrinks to any foot size when it is placed on it.
Idanre Hills was home to early dwellers of idanre town.They had an established system then as you will notice from the King's palace, primary school and court where offenders were punished. It is not surpising that despite westernization and modernization, the hill is still inhabited by some locals who feel they owe it as a responsibility to their ancestors and deities.
Photo credit: skyscrapercity
Ascending the hills can be tasking but the fun and adventure makes up for this. For those who are planning to visit Idanre hill, it is advisable to come with your mountain climbing kit, comfortable shoes and clothes to aid your climb and make it enjoyable. On your way to the top, you will see different hills that make up the Idanre hill itself. The fact that the people of Idanre town hold their ancestors in high esteem is reflected in their naming of each hill after past dwellers who have had a great impact in the history of the people. Therefore it is not surprising that  each of these hills is named after prominent historical figures who ruled Idanre town. One of such hills that stands out among the others is the Aghagha hill.
Aghagha hill emits smoke from it all year round without any visible source of fire and a few meters away is the Agboogun foot prints. Agboogun foot print belongs to a great hunter and warrior in the ancient Idanre town. The footprints was used in the early times to traditionally hunt for witch/wizard. According to locals, the practice was anyone who was accused of being a witch is asked to place their feet into the footprints which has a mystical power to resize itself to the person's feet. If it doesn't shrink, the accused will be tagged a witch/wizard.  The practise was however abolished when Christianity came and now people can just place their foot in it to see if it really shrinks. You should try it when you visit, it is fascinating. 
(Read about the food most Yorubas love Iyan - Pounded Yam)
One amazing thing about Idanre hill, is the five spot for resting which is designed in such a way that climbers don"t have to wait till they get to the top before catching their breath. So don"t worry about how you will climb the numbers of stairs without a stop, nature had you in mind when forming the hill. Once at the top, there is a mind blowing panoramic view of the town and also a small settlement of villagers who have refused to leave behind their tradition. There are also cultural relics of traditional arts, former palace of the Oba of Idanre, historical monument such as: Primary school, Old native court and Mausoleum.
The Idanre hill is suitable for mountaineering, bird watching, sport hunting and other fun activities.  At the entrance, you pay a fee of one hundred and fifty naira. Getting a tour guide is optional but it is advisable you get one as they know their way around there and they tell you stories about the hill.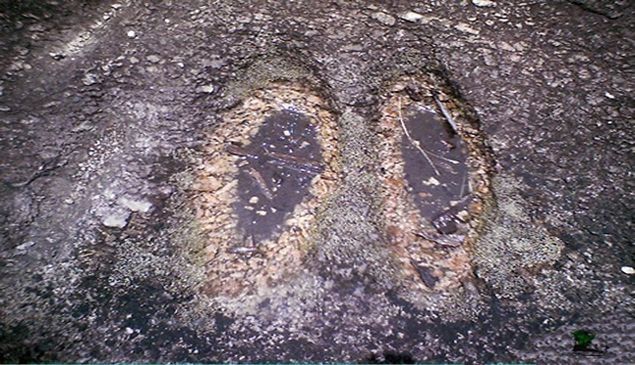 Ikogosi Warm Spring (Ekiti State)
Ekiti State  (Fountain of Knowledge) is in the Southwest region of Nigeria and the State is a 5 hour journey from Lagos and 45 minutes from Akure the capital of Ondo State. Situated in Ekiti State is an amazing warm and cold water spring known as Ikogosi Warm Spring.
Ikogosi Warm Spring is a mysterious warm and cold water spring that flows side by side without the cold or warm water loosing it thermal density. At the source, the warm water has a temperature of 70c and after it comes in contact with the cold water it reduces to 37c.
There has been a lot of stories on how the warm and cold water can flow alongside each other without a change in their thermal density. According to one of the stories told by locals; the warm and cold spring represents the wives of a hunter. One of the wives was hot tempered (representing the warm water) while the other was cool and calm (representing the cold water), in the wake of rivalry and misunderstanding between the wives, they turned into the warm and cold water spring while their husband became the undulating hills that encompass the springs.
(You should also read: Experience Calabar with Dontasha World) 
It is believed among the locals, that the spring has a curative power and that it has a sort of therapeutic effect that cures body aches and other ailments when one comes in contact with the water. Also available in the vicinity of the spring is the warm water swimming pool and an open bar where tourist can swim and have fun. The Ikogosi warm spring, according to tourism experts, is one of eight of such warm springs discovered in the world.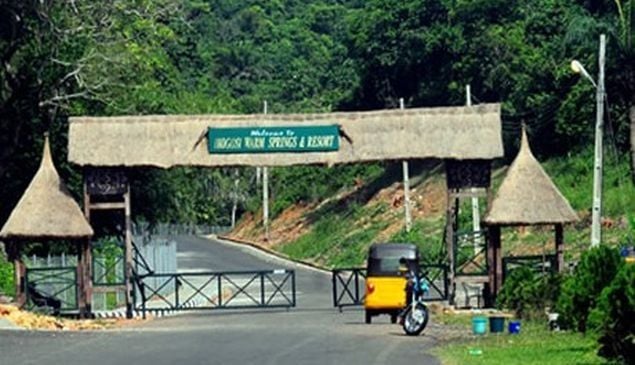 Ikogosi warm and cold spring has been in the little town of Ikogosi since time immemorial but it was brought to the limelight when Tai Solarin (A renowned Nigerian philanthropist) started making publicity for it and then it was visited by Rev. Macgee of the Baptist Church who established a student camp close to the spring. Rev. Macgee later went on to build a chapel (which has now been renovated to serve the purpose of a conference hall) and hostels for his student that came for the camp.
The resort which is highly secured can be used for conferences, business meeting and also a weekend getaway for families, honeymooners and for all type of events as they have a hall and open space. For those who just want to see the spring will have to pay  a fee of five hundred naira at the reception desk before making their way along the wooden path.
(You should read:My Guide Nigeria Visit to Badagry)
The resort has a  hotel that meets  international standards and their services are impeccable. While there, you can dine at the restaurant which serves local and intercontinental dishes. The hotel has rooms that are luxuriously decorated to suit the taste of their prospective clients both business and leisure travelers. Their rooms can be categorized as follow: 1 Executive VIP chalet, 3 VIP villas, 12 western suites and 75 standard rooms.
(Click to find more things to do in Nigeria)
Have you ever been to Idanre hill or Ikogosi Warm Spring? Do you have stories of other places of interest in the Southwest region? Why not start air your views and tell us about these places on our facebook and twitter handle @mydnigeria