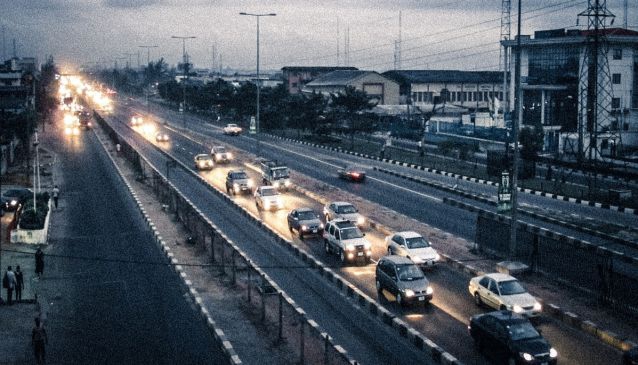 Getting about in Lagos
Adventure
If you can make it in Lagos, you can make it anywhere - Anon
Are you in Lagos? Lol. Just how did you find yourself in the middle of the most popular city in Nigeria. Population Density of about 20 million. You will be needing this guide to help you avoid a huge majority of that and accomplish all you set out to do today..(assuming that isn't to lie in bed all day). Lagos as a mega city has all modes of transportation in operation within it.
There's air movement, train, road, water, and even horse riding in some regions. (There are rumors of drones seen at night but that could be witches from our Edo neighbours going about on their broomstick)
In this series, I am going to bring you the following courses:
BUS 101: Your guide to leaving the party late
Nigeria Airways: All you need to know to avoid issues like this "where is my ipad, arik?"
Ferry & Jettys: Where to rent a speedboat for the weekend. (It comes with a room)
Railway: Where do I sign up for this?
Bus 101
The 1st 3 things to know in this guide are 3 bus stops. From these three, you can get anywhere within Lagos. Obalende, Oshodi, Iyana Ipaja. (repeat them till you can recite them during immigration without stuttering)
Oshodi: (image credit: Global Village Extra)
Obalende (image credit: Flickr)
Iyana Ipaja (image credit: Alimosho Live)
So we have two or three types of buses in Lagos. The molue (do not attempt if you have not lived in Lagos all your life), the danfo, 3 wheelers (we are still trying to get used to them too), the keke marwa (best to get round traffic on any busy road). The BRT system is your best way to move around in a comfortable, tourist themed style while in Lagos.
The Molue: This is not recommended for you if your adventure spirit can't take lots of people crammed up, high temperature and going really slow. The government has tried to shut down the molues without success. These die hard engines still strive, a reminder of the years of Nigeria's boom and the wealth of the past.
Molue is cheap. You will probably stand...in someone's armpit space....or sit by the window and catch the glimpse of rural Lagos. If you are looking for Nigeria in its raw state, a trip by molue will give you stories to write about.
Obviously, you know you shouldn't be using the molue on a date or going for an interview or anywhere you don't want to sorely stand out. Dress comfortably for a ride in this. Comfortably depends on you but I would suggest a t-shirt, shots or jeans and some scandals. Also, remember to hold some change for the trip. You can find molue in Yaba enroute Ojuelegba, or in Orile enroute Festac.
Molue (image credit: Punch NG)
The Danfo: It's everywhere. It's usually how you know you are back in Lagos. This yellow bus is a sign of your survival everyday as you live the never stopping pace that is Lagos. Whether you are in it, or one cuts you off in traffic, barely missing you by inches, or it breaks down on the Third Mainland Bridge on a Monday morning.
This is a 14 seater bus. Usually loads at most bus stops. In most cases, a few can be seen cutting queue and picking passengers singly as they drive by. This in turn builds up to cause traffic. The front passenger is expected to use the seatbelt. A conductor collects your fare and handles out change. (He might not be too happy at the moment, bear with his temper or jokes. He wont bother you and he will be fine by evening).
The danfo fare can range from as low as N50 to N500 within Lagos and N2000 a few distance outside Lagos. It's good practise to have the exact fare on you so you wouldn't forget your change with the conductor or get paired with someone and left at your bus stop.
Danfo (image credit: Lagos Convo)
The 3 wheelers: They are still finding their spot on the transportation table. I am not exactly sure how many people take them serious. It looks like it's about to topple over any moment now..... now.... now.....moving on...
The 3 wheelers actually feels steady on the inside and even though that feeling of 'it will topple soon' lingers, you gradually grow that re-assurance it wont, trust the technology and just enjoy the ride. This bus is ideal for short to medium height people mostly. (Are you equal to or shorter than Jay Jay Okocha?)
Okocha (image credit: Star Africa)
It seats 3 at the back, 3 in the first row and 1 passenger beside the driver. Ideal for a group movement exploring town. The radio might even be blasting Pharrells "Happy" and you shake your head to the beat.
The Keke Marwa: This exquisite, majestic replica of the old time horse carriages on Nigerian streets is a sure way to getting round & exploring an area. Just charter one at a park/bus stop and ask to go round town. They make good orators too.
One good thing about this elegant creature is its ability to weave through traffic. You see, it is half bike, half car. A good marwa driver will work its way inch by inch through the gaps left by bumpers not touching and you find yourself at the end of the traffic. Get to the airport in the nick of time with a wild ride via Keke Marwa story to take home....
It seats 3 at the back with possibly 1 in front depending on the driver & local authorities restrictions. Chartering a Keke Marwa will at least cost you N400 (price for each passenger 1st) to N1500.
(keke Marwa (image credit: Digital Journal)
The Okadas: They have been banned off all major highways in Lagos, so yes, your climbing into the back of one is exciting, an adrenaline rush and a cold caress of speed on Lagos highways. Be careful, you might just get a powerbike yourself.
They mostly 'prowl' inside neighbourhoods now. I don't use prowl in a predatory context even though part of the reasons they were banned was for their efforts in making it easy to snatch bags and items and escape during traffic. The law states that bikes under 200cc have no way on the highways. Bikes like this are beginning to appear. They pick up passengers, they are 200cc or slightly above, and they run like flash. We await these new riders.
Okada (image credit: Jide Odukoya)
The Taxis: The best, most comfortable way to move around. The local ones (does it have yellow & black stripes? Does it look like its about to stop for no reason?) aren't all in good conditions for comfort but they will get you to your destination. The private company taxis in Lagos however compete by offering optimal, elegant and VIP comfort in their taxis.
Normal Cab:
(image credit: Naijanomics)
Red Cab:
(image credit: The Business Aim)
Metro Taxi:
(image credit: Metro Taxi)
Metro Taxi:
(image credit: Metro Taxi)
The BRT: Bus Rapid Transit for short was introduced by Governor Fashola and is one of the best things to happen to Lagosians. Believe that. You see, Lagosians now enjoy the luxury of queueing for their bus, swiping to pay, taking a comfortable seat, cool off from the African Sun in the air-conditioned interior of the BRT and swiping out at their bus stop. It's just stress free majorly. It's designed to work like a subway system. The BRT system is also a favorite choice among commuters in Lagos because they have their own dedicated lanes on most roads running throughout the state. You might find yourself having to stand when the seats run out. If you are cool with it, then stand else wait for the next BRT. I will however advise you take the BRT with the standing option because you might have to wait a long while for the next on a bad day...and trust you will start doubting your decision to not stand.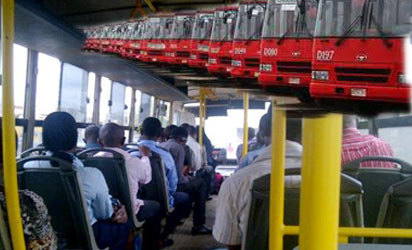 BRT (image credit: Vanguard NG)
Now you know buses or road transport systems in Nigeria.
Supposing your tour bus leaves you at the venue of the party taking selfies with a Nollywood celeb or your new Nigerian heartthrob pushes you out in the morning and you have no idea where she took you to, or what part of town you are, depending on your pocket size, you have a taxi, bus, okada to get you back to your hotel bed or wherever you will be leaving Lagos from (will you coming back? Please do).
Or if you are just seeking some adventure.
A taxi is a good way to get back to safety or to an assembly point. The local taxis can be spotted by their yellow & black stripes. There are other taxi companies operating privately which can be flagged down. Mostly, they offer far more comfort than most of the local ones. Which flares up your fare....
There are also taxi companies you can make driving arrangements with.
If you are clearly lost and you don't have google maps to save you, and you decide to go by bus. Ask to find any of the following places. Obalende, Oshodi, Iyana Ipaja. You can find a bus to anywhere via the routes covered.
Identify which bus stop is closest to you. This should be one of the first things you do on checking in anywhere in Nigeria, not just Lagos . Tell the bus conductor (and passengers sitting beside you) the bus stop closest to you, they will tell you where to alight and find the best way home. Nigerians love to help like that. We are loving, caring people when it comes down to it.
Read our Lagos 101 & getting around guide for more valuable info to hold regarding your forthcoming Nigeria adventure. See the many ways you can get to Nigeria.