Precinct Comfort Hotel, Lagos
Editorial
If you want to stay on the Island, but are travelling on a budget, look no further...
Introducing comfort in both name and nature: Lagos's
Precinct Hotel
offers all the hospitality of a traditional Nigerian family home, in surroundings that meet the standards of the best international
hotels
. 
Welcome to Precinct…
You'll find the
Precinct Comfort Hotel
just off Ikoyi's prestigious Ribadu Road, or at purpose built location on Herbert Macalay road, in Yaba. Located in two of Lagos's most desirable districts, the
Precinct
offers comfort and a little taste of luxury, at prices that won't break the bank. It's close enough to the city that guests can enjoy the hustle and bustle, but still have plenty of privacy.
So if you want to stay on the Island, but are travelling on a budget, look no further. Ikoyi is easily accessible from the mainland and the airport, and it's also not a hassle to get to Victoria Island and to Lekki. This really is the ideal spot for travellers. 
When you first arrive at
Precinct
, you'll notice the lack of signs outside – in fact it looks like a private residence. This might seem odd to a tourist, but this is good news for your security.
A room of your own…
The hotel in
Lagos
 offers a range of suites, so there's something to suit all budgets and tastes. All are well decorated and fully equipped with modern amenities, and carefully placed soft furnishings create a homey and comfortable atmosphere. 
With a comfortable bed and all the necessities, the Standard Room is ₦16,000 a night. For a little more space and storage, opt for the Classic Room - ₦20,000 a night. If you fancy something a little grander, treat yourself to an Executive Room, priced at ₦25,000 a night. For true luxury, head straight for the Super Executive Room - ₦28,000 a night. 
All rooms are secure and quiet, with a digital safe. You can stay connected with broadband and WiFi, and it's easy to unwind with cable TV and a well-equipped bar. Enjoy your own little corner of luxury, with laundry services and 24-hour-a-day room service at your disposal.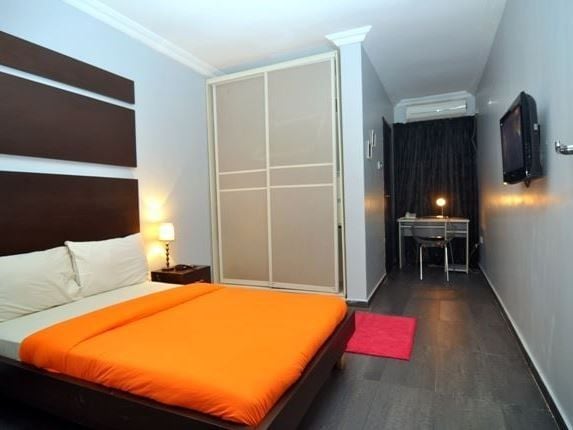 A hotel for all your needs 
The hotel's parent company,
Precinct Comfort
Services, was originally created as an
events
management, hospitality and entertainment company, so the team who run the show at Precinct are experts when it comes to keep you happy. 
Work...
If work brings you to Lagos, you'll no doubt want to stay somewhere that is comfortable and relaxing, but also well equipped for your business needs. Before you book elsewhere, be sure to check out what the Precinct has to offer. With rooms that ideally suited for conferences, AGMs, training and business seminars – plus truly exceptional banqueting services – the Precinct has everything a travelling businessperson could need.  
Play…
It's easy to feel lethargic when you're travelling, especially when your days are split between the hotel
restaurant
and your bed, so whether you're in Lagos on business or pleasure, there's nothing like a bit of exercise to get the blood pumping and the endorphins kicking. Happily, At Yaba Precinct's guests have on-site, fully equipped gym at their disposal. So, whether you're staying in a standard room, or the super executive suite, don't forget your running shoes. 
Once you've worked up a sweat and burned a few hundred calories, what better way to reward yourself than with a trip to the hotel's state-of-the-art Jacuzzi bar. Not many hotels can boast of giving their guests the opportunity to sip cocktails while being massaged by the Jacuzzi's soothing water jets. Bliss! 
Another point worth mentioning is that the hotel's communal areas are very well equipped with lavatories! This means that if you're enjoying yourself in the restaurant, bar, gym of Jacuzzi, you don't have to traipse back to your room to use the bathroom. It might not seem a big deal, but it's little details like this that demonstrate that the hotel has been designed by a team who are truly committed to making your stay as comfortable as possible.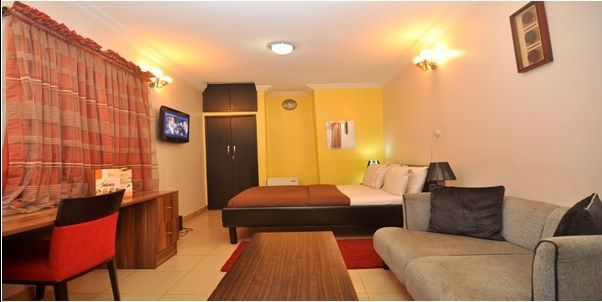 Eat…
People from all over the world find themselves staying at the
Precinct
, and for lots of different reasons, but one thing all guests seem to have in common is that they can't get enough of the food! 
The hotel chef is committed to giving guests a true taste of
Nigeria
, but is also focused on making sure there is something for every palate, so alongside traditional native dishes you'll also find a wide variety of intercontinental options. 
Like the rest of the hotel, the restaurant menu strikes a delicate balance between comfort and luxury. The ingredients are carefully selected for their quality and cooked by a specialist team, but the hearty portions and strong flavours give the meals a wonderful home-cooked feel. It's not unusual for guests to exclaim 'it's just like my mum used to make!' A top tip is to look out for the chicken wings – they're to die for!
A holiday isn't a holiday until you've sipped on a cool cocktail, and the stylish bar at Precinct is happy to oblige. Just one glass of the house cocktail is guaranteed to put you at ease!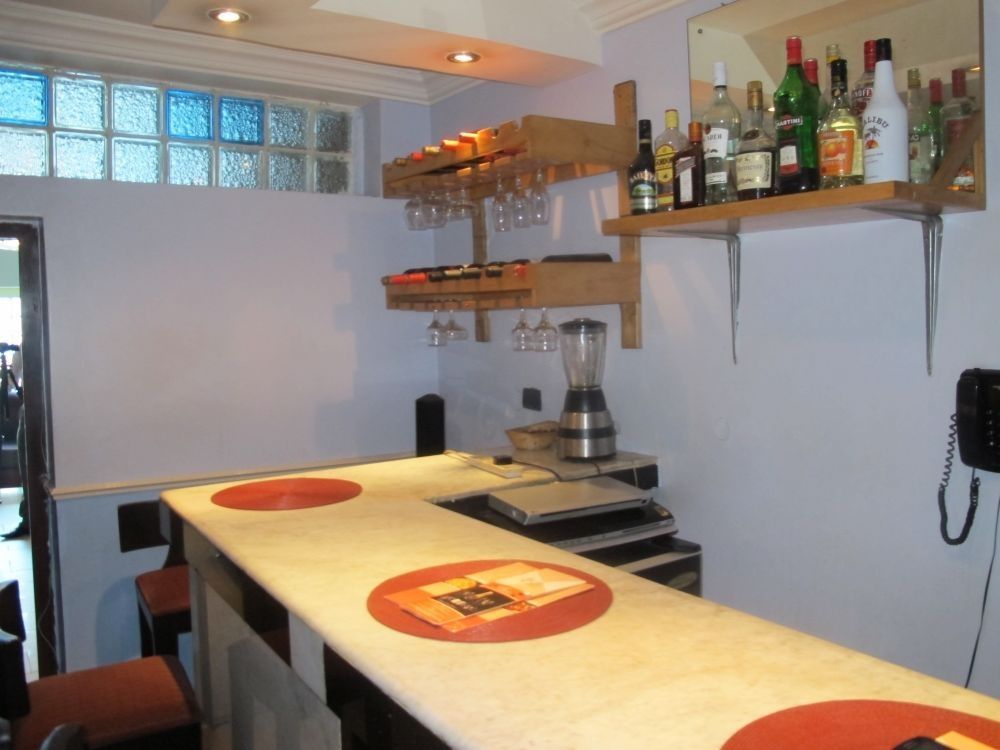 Happy to help…
With the right staff, a good hotel can become great, and this is certainly true of the Precinct. The team of committed, attentive staff are on hand at all hours of day and night to make sure your every need is taking care of. They are knowledgeable and friendly, and the fact that both English and Kiswahili are spoken at the hotel is a helpful touch. 
See you soon…
So, if you're lucky enough to be planning a trip to Lagos, it's well worth checking out the
Precint Comfort Hotel
. With less than 20 rooms, the this guesthouse is relatively small, but with a range of suites, state-of-the-art amenities, terrific food and flawless customer service, it's got everything you could need to make your stay pleasant and stress-free. 
Address: 15, Ribadu Road, Off Awolowo Road, Ikoyi, Lagos State
Phone: +234 80 2 031 043