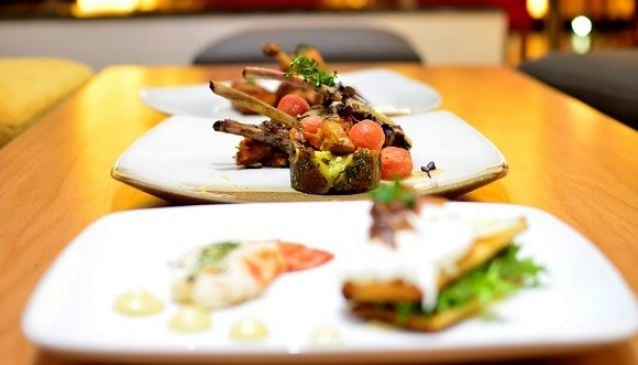 Best Places to Go and Eat in Lagos
Food & Drink
What's not to love about Lagos great culture great food.
What's not to love about Lagos, Nigeria? Great culture, great tourist opportunities, and best of all, great food. We know that in foreign countries it's hard enough to get around without having to worry about where to eat, so we're going to take you through the best places to eat in this beautiful city.
Let's be honest, no top 10 list of
restaurants
in Lagos is complete without the Vellvett Bar and Grill. At a reasonable price, with a wide variety of choice that isn't risky to choose from, it really is a win win situation. You can be adventurous and try the daily special, or why not go for the must have charcoal chicken wings? We all like mixed grill, and the Vellvett Bar and
Grill
certainly doesn't disappoint.
Located at 19 B Idejo Street, Victoria Island, Lagos
At number two, we have la Veranda
Restaurant
. This colourful pink establishment offers a friendly environment in which you can enjoy your lunch or dinner. Again, the price of La Veranda is more or less in line with other high-end restaurants in Lagos, so don't let that be a factor in your decision.
The waiters/waitresses are known to be humours and entertaining, making every effort for you to feel at ease. La Veranda is known for its Italian food, so if you are unsure what to order, any pasta or
pizza
will certainly not disappoint you.
Located at 17 Oju Olobun Street, off Bishop Oluwole Street, Victoria Island, Lagos.

As the picture shows,
Métisse
is a classy establishment at lower than average prices. You certainly get value for money at
Métisse
. Admittedly, with a limited menu, don't expect an abundance of choice. However, this should not deter you. This enables the chef to really specialise on the dishes. The service is also excellent, the food arrives at your table promptly and regularly, which means you won't be waiting around on an empty stomach for long!
Located at 267A Etim Inyang Crescent, Victoria Island, Lagos

With a name like fusion, expectations are certainly high when you enter this
restaurant
! Luckily, the food doesn't let you down. As the name suggests, the restaurant provides a blend of both Lebanese and
Japanese
food. The blend of Middle Eastern food coupled with the sushi of Japan is really a mouth-watering experience that is not one to be missed.
Located at 1C Ozumba Mbadiwe, Lagos

If you're looking for the high octane experience,
Rhapsody's
Victoria Island is a restaurant-cum-nightclub that is one for the party goers. With a vibrant ambience and tangy food,
Rhapsody's
is one establishment that should not be overlooked when trawling through Lagos' many restaurants. A perfect
restaurant
for a Friday night, where after dinner you can relax, kickback, and then knock back a few cocktails. Don't be deterred either,
Rhapsody's
is certainly a child friendly zone and more than caters for the family experience.
Located at 19A Agoro Odiyan, Lagos
Put your hands up if you don't like Thai food, no one? Excellent, then make sure you don't miss Bangkok Restaurant. Perhaps at the more pricey end of the spectrum, Bangkok
Restaurant
compensates for this by offering huge portions that can often by shared. Why not bring a party of five and order four dishes? This is certainly one way to change your dining experience and another reason why Bangkok Restaurant should be on your bucket list when you're in Lagos.
Located at
244A Muri Okunola Street, Lagos
Admittedly, you shouldn't visit this one place if you're averse to a bit of seafood. While there are other options on the menu,
Coral Blue
Seafood is a place for those of us who love our food from the sea. With regular specials and chef suggestions making your mind up for you,
Coral Blue
Seafood is a great place to relax and order those strange and wonderful creatures that swim around us. Make sure you ask for the sauces, and you really won't be left disappointed.
Located at 1 Adeyemo Alakija Street, by Sanusi Fafunwa, Lagos
Another one on the list that is on the upper-end of the price scale, yet if your budget allows it,
Villa Medici
is a restaurant that should be on your itinerary. It is advisable to book on time and get there early, as parking can sometimes be an issue, but once these have been overcome, there is nothing stopping you have a fantastic time at one of the more classy outlets in Lagos.
Located at 1 Festival Road, Victoria Island, Lagos
Have a big party and are worried you're not going to have enough space for you all to eat comfortably and talk? Have no fear,
Pearl Garden
is here! This predominately-
Chinese
restaurant offers a cordial, local, atmosphere. If you're looking for a more cosy environment,
Pearl Garden
also offers private rooms (of course, there is a premium for this).
Pearl Garden
is possibly the most costly restaurant on this list, so use it as a treat or on special occasions.
Located at 10A Tiamiyu Savage Street, Lagos

Written by:
Sylvester Asenguah
PUBLISHED: Jun 9th 2017