Bowling In Nigeria
Adventure
Bowling is an exciting game not very common among Africans.The game can be traced down to Ancient Egypt and the Roman Empire as far back as 3000-5000 years ago. The bowling balls used  then were crafted from husks of corn, covered in leather and bound in strings.
As a game, bowling can be played in 2 different variations. There is  the pin bowling variation and the target bowling variation.
Pin Bowling variation is played on a flat wooden surface or synthetic surface in order to allow the ball to move freely. In pin bowling, the idea is for the ball to knock over the pin(s) which is regarded as the target.
The target bowling variation on the other hand aims to move the ball closer to a given object or mark. The target variation can be played on gravel, grass or synthetic surface.
Bowling like any other sporting activity is a great form of exercise. The swinging of the ball helps to relax tendons, joints, ligaments, and muscles in the arms and promotes weight loss. Bowling is a game for all. The game can also work other wonders such as strenghening friendship and creating new friendship. For the ladies that are team weight loss, you should come here as bowling can help you get rid of the extra fat.
Photocredit: @lindaikeji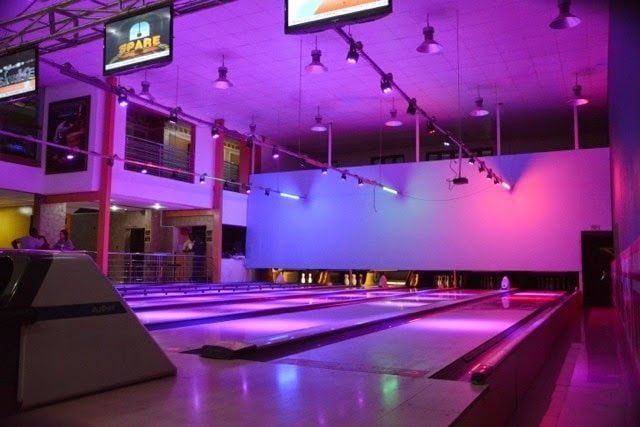 Historically the only time Nigerians get to play this game is when they are abroad. That era however, has gradually come to an end as blowing alleys have sprung up across Nigeria, and Africa as a whole. In Nigeria, Abuja and Lagos to be precise;  locals and visitors can now enjoy this beautiful game at The Trukadero place, Dome Brunswick Bowling centre and Let's Go Bowling Center.
The Trukadero Place
is a recreational entertainment center, it has six bowling lanes. The Trukadero Place which hasn't stayed long in the hospiitality and entertainment scene yet, is rumuorrumoured one of the finest spot in Africa. It is located along Ademola Adetokumbo Crescent, a short distance from Cubana Lounge in Wuse 2  Abuja. The interior is beautifully decorated with fine lights and great finishing touches. It is a place where you can eat, drink and play.
The Trukadero Place also has 9D theater cinema, horse riding, pool table, chinese, african and continental restaurant, yummy tummy ice-cream, pastry lounge and a sport bar and it is affordadble. The bowling game at The Trukadero place is very exiciting. Those who have visited the place have a lot of stories to tell. With a fee of N2000 you have access to the arena. You are given a footwear (it comes in different sizes so you don't have to worry about size)), a pair of new socks( you will have to pay separartely for it) and bowling balls. The bowling ball comes in size 6kg and 14kg, the weight of the ball helps it to knock over the pins.
For those who love to eat, the
restaurant
 at The Trukadero Place offers you a nice variety of food to pick from and it is served in a clean and cozy environment. The food is said to be finger licking and tommy filling.
The bowling arena at The Trukadero Place is made of fine wood with the pins at the end of the lane. It has an over head flat screen television where your name and that of your opponent appears along with your scores. For those who are not very keen about playing the game, they  can try their hands on the pool table, 9D cinema or go for horse ride. I know you be wondering about the 9D cinema, yes it is out and you can find it at The Trukadero Place.
You also get other special packages for your  Birthday, naming-ceremong, corporate events and school. The Trukadero Places is the total package when it comes to hospitality and entertainment.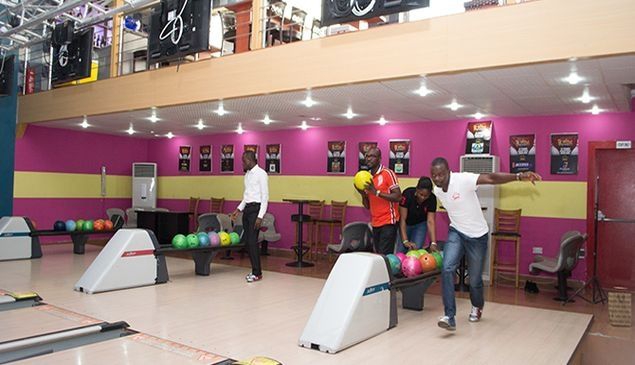 Dome Brunswick Bowling Center
With its history of having the first bowling alley in West Africa, Dome Brunswick Bowling is located in the central business district of Abuja. The centre has a serene garden,
night club
,
fitness center
, banquet hall,
restaurant
, VIP lounge, cigar room and out door swimming pool. 
The center which has been in the system for a long time, still has a lot to offer to fun lovers. Usually it is said a spot can not have all the fun activities but it seems Dome Brunswick has broken the jinx. Visitors are given the opportunity to party, play and eat in the same venue. The bowling alley is equiped with six bowling lanes. 
The
banquet hall
can be used for different events such as weddings, corporate events, company function, seminars, naming ceremony, birthday parties, conferences. It is fully equipped with state of the art facilities and it can sit a jolly sum of people. You don't have to worry about security, as Dome Brunswick Bowling Centre has well trained security personnel.
Photocredit: @lindaikeji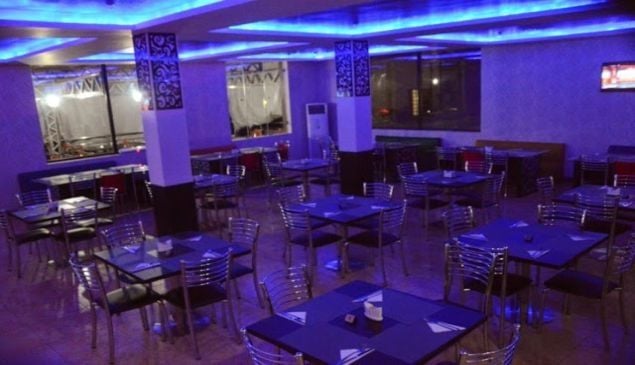 Let's Go Bowling Centre
Equiped with a ten bowling lanes, Lets go  bowling center is located in
The Palms Shopping Mall
, Lekki-Ajah, express way Lagos. The entertainment centre also has a full service bar, where visitors can get any type of drinks, billards, arcade game for those who are not very cut out for bowling and also children games to keep the kids entertained.
The Palms Shopping mall, has over 69 store plus the bowling alley and a cinema. The stores ranges from restaurantes (Chinese, local and continental) to ice cream shops,  and top designer shops for clothes and perfumes. The mall opens by 10:00AM, Mondays to Saturday and by 12noon on Sundays.
Photocredit:@citypeoplenews