Shopping in Nigeria
Inspiration
Nigeria is a destination for the adventurous, and visiting its markets is no exception.
Photo: Flickr - ILRI
While Nigeria doesn't strike you as an obvious shopping destination; a couple of unique aspects make this populous West African country a pretty fascinating place to shop in. Nigeria is a country of extremes, where you drive past chaotic, bustling markets, on your way to shiny shopping centres. Firmly in the heart of Africa, the country shares a lot of the features of its neighbouring nations; caught at a crossroads between tradition and modernity - the old and the new - the country is changing at an eye-watering rate.
The colossal open markets which have traditionally been the heart of shopping in Nigeria are being challenged by a crop of new Western-style shopping centres. Both of these have their advantages if you want to experience Nigerian shopping culture - while the traditional sprawling, hectic markets are fascinating to explore, some of the recently built shopping centres contain the stores of up-and-coming Nigerian designers who have a special ethical focus.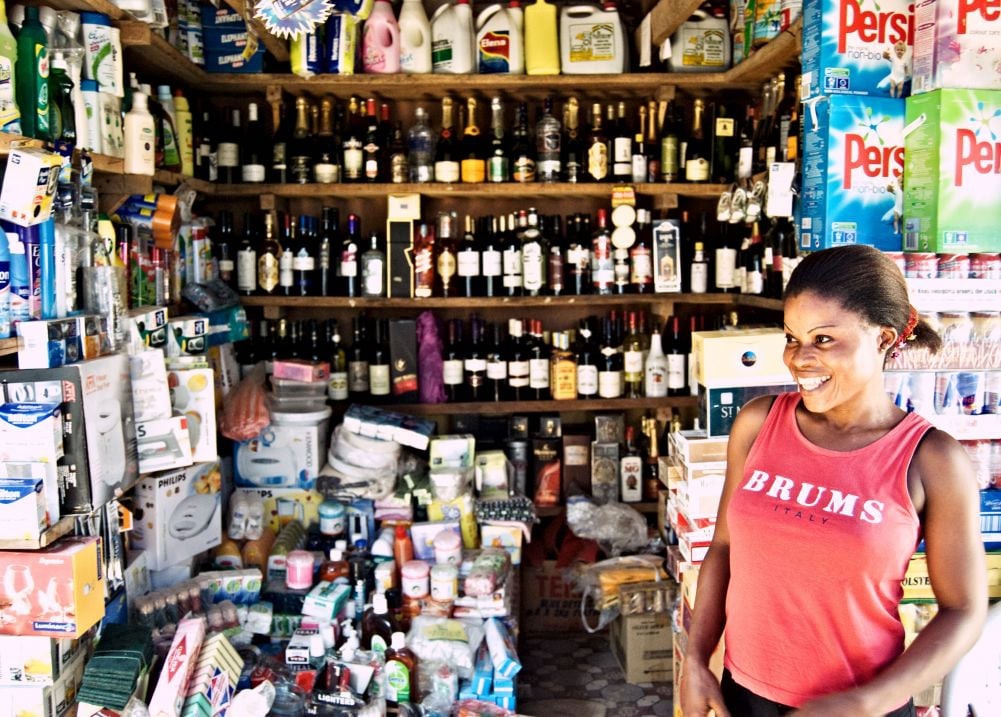 Photo: Flickr - shawnleishman
The Old… Markets
Crafts
Nigeria is a destination for the adventurous, and visiting its markets is no exception. A variety of crafts are produced: textiles, pottery and ceramics, bronze, brass and iron figures, jewellery and beads. Purchase these high quality crafts at one of Nigeria's many markets, some of them being the largest in West Africa.
Jankara Market on Lagos Island sells every item imaginable, from locally dyed cotton and hand woven cloth to ju ju concoctions and leather goods. Situated on Idumagbo Avenue, it's the largest market in Lagos, and well worth a visit. Spend a day there exploring the different shops, and try out your haggling skills.
Or, head to Lekki Market, which specialises in crafts. Artisans man their own stores, so buy from the person who made them. It's a good place to buy souvenirs; bright geometric art, clay beads in every colour imaginable, West African masks or large carvings of crocodiles.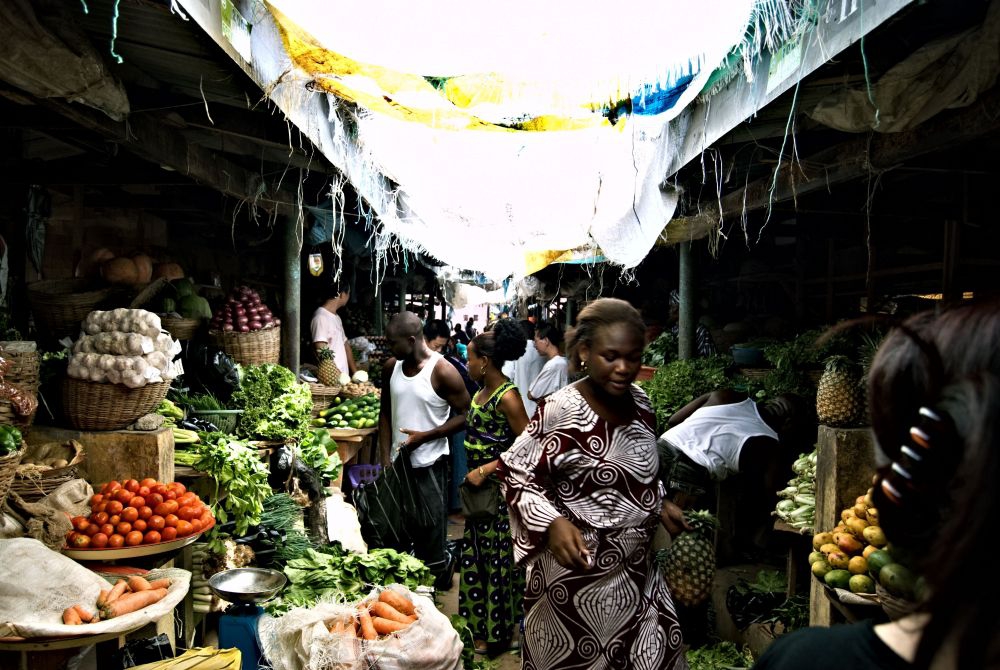 Photo: Flickr - shawnleishman
Fabric
It's clear from the success of Nigeria's emerging fashion designers that a heritage of beautiful fabric has led to their talent. The history and importance of cloth to Nigerian society is obvious, it's a country where every different ethnic group has a different style of dress: fabric is communication. Wander around one of Lagos' or Abuja's sprawling markets to find locally dyed cotton and hand-woven cloth; the staple patterned fabric ankara and different types of lace. 
Balogun Market on Lagos Island specialises in West African fabrics and clothes, and is the best place to purchase Nigerian cloth. There is no real address, so either ask your taxi driver to take you there or look for the central mosque which overlooks the market stalls. Once there, you'll find a veritable maze of shops which sprawl several blocks. It's an adventurous destination but a glimpse of real Nigerian street life, and a great place to find affordable and high quality local fabrics.  Thousands of stalls sell different types of cloth, and the market is separated into different areas. The ankara section is vibrant with rows and rows of cloth - as the staple of Nigerian casual clothing its brightly coloured, patterned exterior is an arresting sight.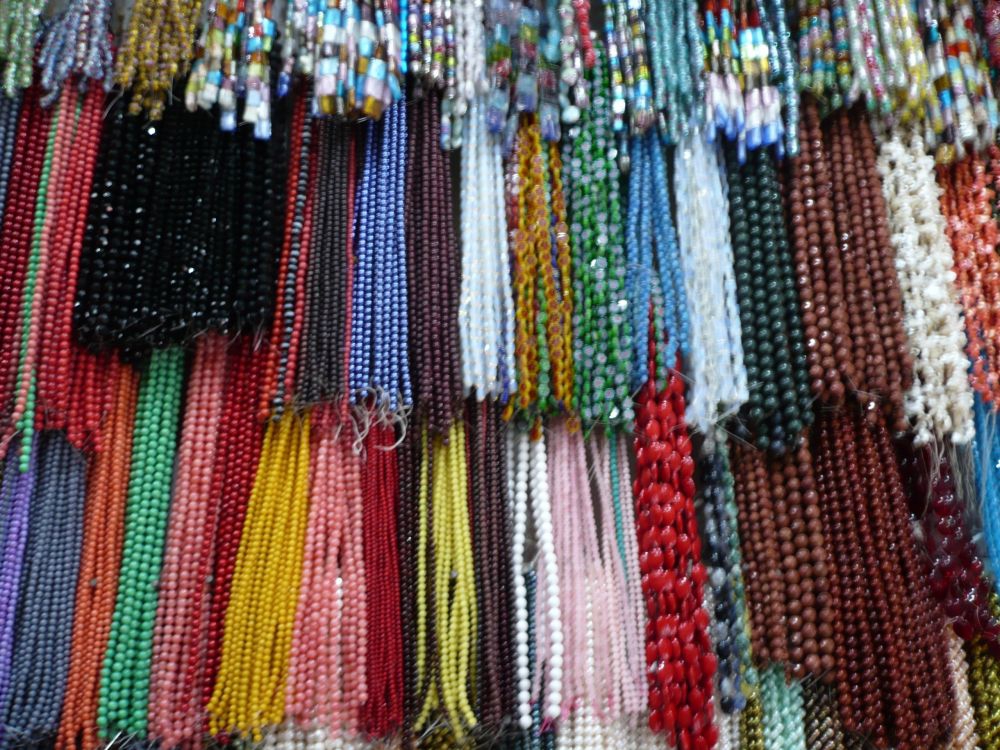 The New… Shopping Centres
While markets remain the beating heart of Nigeria's shopping scene, a series of Western malls and shopping centres have opened up in the past few years. Head to City Mall on Lagos Island, and find over 50 shops, restaurants and a two-screen cinema, or to the Palms Shopping Mall, on the Lekki Peninsula, for even more shops, a six-screen cinema, and a bowling alley. Selling a range of different products, these new shopping centres rival the traditional markets but, while it's a more modern Nigerian experience, it's no less an authentic one.
A highlight in Nigeria's malls and shopping centres are the chance to buy home-grown Nigerian labels. Paying unique attention to the potential to help their country through their designs, several fashion designers have emerged recently who reinterpret traditional fabrics in innovative and celebrated ways.  In a country where developing a social conscience is unavoidable, designers here have developed a unique ethical dimension to their approach.
Kinabuti is one of these boundary-pushing labels, founded by Italian-born, Nigerian-based designer Caterina Bortolussi. Aiming to promote social empowerment, she trains local tailors in skills like draping and dressmaking. The clothes themselves are beautiful homages to Nigerian traditional dress, with bright, vibrant colours and patterns cut onto elegant silhouettes. Kinabuti's flagship store is in Abuja on the first floor of the Silverbird Galleria - a cinema-come-shopping centre.
Another great place to purchase clothes with a made-in-Nigeria label is in the Mega Plaza on Lagos' Victoria Island. Selling a wide range of electronics, household goods, and clothes, and with a self-contained food court, the mall also has a designer's outlet store where Nigerian and West African designs are showcased. Buy from Kiki Clothing, a Ghanaian label which interprets traditional West African design for the global market, and is stocked here. Or, check out BebeGrafiti, a label which also utilises the unique Nigerian flair in its fashion. Head to the fourth floor of the Mega Plaza in Lagos and discover some of these unique designers. 
Photo: Flickr - Bohan Shen