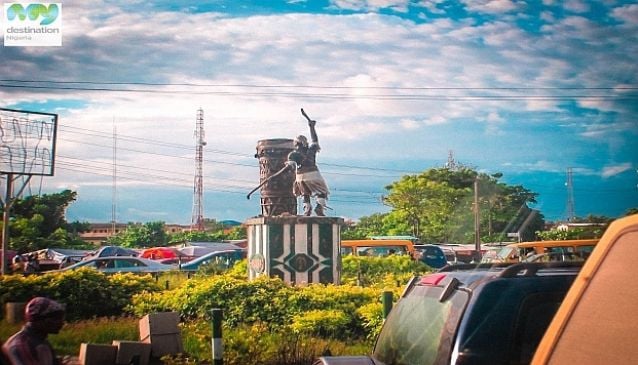 My Destination Nigeria Visits Badagry!
Adventure
Our greatest glory is not in never falling, but in rising every time we fall - Confucius
For our democracy day in May, My Guide Nigeria along with friends (Travel Next Door) went on a tour to the historic town of Badagry. Badagry is a town known more for its past slave heritage. A visit to the bustling, thriving, sea side town was an insightful one (as well as a welcome break from the busy sights of Lagos).
The day was May 29 and as early as 8am, we were on the highway taking us to the historic & quiet town. The heavy rain from the previous night & the slight drizzle of the morning gave way to blue skies & some sunshine as we neared Agbara. Agbara, a busy town, is a landmark to take note of when visiting Badagry. Badagry is another 15-20 minutes drive from Agbara.
A signboard confirming Badagry alerts you that you have arrived but it isn't until you get to the roundabout, where you see a big drum (pictured above), that you are in Badagry. The Legendary Sator drums rest in Badagry and only come out when there is a special occassion. Taking left at the roundabout takes you to the Badagry Heritage Museum, Point of No Return & many other sights you have come to see. Going ahead straight will take you to the Seme border and going right takes you into the town of Badagry.
(You should also read: Experience Calabar with Dontasha World)
Our first point of call was the Badagry Heritage Museum. The rain had caught up with us by now. A tour guide available welcomed us & explained what the Museum was about. The people of Badagry who appreciate their story & history saw it fit to retain it all in this Museum which used to be the district colonials quarters in its time. (It even has a 'safe' left intact from the era).
The Museum is segmented into eight(8) galleries. The first gallery you will come across has a statute of a man with broken chains. It had the word 'Freedom At Last' inscribed on it. The big relief on the mans face is nothing short of talented craftsman ship. Even without seeing the inscription, you could tell the man was relieved to have his chains broken.
In the next gallery, you will see real chains from the slave eras. You will see chains for men, women, stubborn people and clans of people. Chaining people together limited their resolve to break free or even accomplish it once it's tried.
You will also see pictures showing slave exchange among tribes like Egyptians, Romans and more 'developed' countries. You will see a slave drinking pots (its edges were sharp), a replica of the slave ships used to transport human cargo as well as material cargo from Africa, the safe the district colonials used (some of the locals will tell you it still contained important documents dating back to the era).
Listening to the tales of the slave era was enlightening, a little sad & humbling. You can see a glimpse of the history that has been forgotten concerning the African story before the slave era. The people of Badagry kept what they were before & kept their story intact.
You will see the Abolist gallery where there are pictures, notes of deeds of men & women who worked to see that slavery was extinct. Slavery was overruled but it continued illegally for 100 years after. It was a very lucrative business.
Our next point of call was the spot where Christianity was first in Nigeria. An aqia tree used to mark the exact spot where Thomas Birch Freeman first preached. This was also where the first Christmas feast was held. A monument has been built to stand in place of the fallen Aqia tree. Some locals believe the tree gave power to the land and that its removal is a supernatural event. Churches, pilgrims, Christians are known to visit this spot in Badagry to offer prayers, dedicate new members & other activities.
Our tour guide made us take note of the Brazilian styled houses around us. He explained that they were built by slaves who returned with artisan skills. Some could work with wood, some metal, some clay, some buildings. They all returned & set about to rebuild a community they could call home. Some of the indigenes requested they helped them build their family houses in foreign styles. This explains why some of the family houses had local names instead of foreign names on them as is evident in places like Lagos Island in Lagos where a number of slaves returned to, settled down & raised familes.
The Seriki Abass bar-racoon was our next point of call. The bar-racoon over looked the Island of no return. The ambience of the area is peaceful, the surroundings cool. One can take a walk along the lagoon or pack for a picnic beside it. There are also local bars & food joints along the street. They provide a good avenue to sit & trade stories with the locals.
A bar-racoon is a cage/cell or a holding house for captured men, women & children. A tribe will often go in search & raid another tribe, capture its people & transfer them to these bar-racoons. Here, as many as 40 people will be put into a very small cell. Men, Women, Children, Sick, Healthy, Old, Young, Family, Friend, Enemy.
(You should read: VeniVici Health Club & Urban Spa)
They were kept here till slave dealer boats sailed in from foreign lands looking for slaves to buy. The wait period could be up to 2-3 months by which only about 20% of the captured prisoners remained. These would be bought for high prices as they were deemed strong & fit for surviving the bar-racoons.?
No loss to the slave dealer!
After hearing about the interesting details of Seriki Abass, who was a slave that returned as a slave dealer, we got into life jackets & boarded the boat to the Island of No Return. Here, you will walk about 2500 meters the way the captured prisoners walked after months of little or almost no food & water, no exercise. The boat arrived at the Island and we were greeted by the friendly, shy inhabitants. They don't like pictures. We started on the walk immediately. The sun was high & hot but you wouldn't feel so much in heat. The Island of No Return is a beautiful parcel of land safely secured & at one with nature, hiding away in Badagry. The Island is peaceful, you see some little of man's intrusion but generally, it has been left untouched following the gory experience it witnessed during the captured prisoners trek across it.
You will come across three landmarks on this walk. The first tells you you are on the trail the slaves followed. The next is the Well of Attenuation. This well is where the captured prisoners were made to sit around & drink from. The slave dealer would fetch the water & offer it to the captured prisoners. They were only too eager to drink & they filled their bellies with the water.
Legend however has it that the water was bewitched, others claimed drugged. This is because the captured prisoners forgot all about home, became docile and made it easy for 10-15 slave dealers manage over 500 slaves on a long journey to foreign lands. There are stories that some times the water did not work. The captured prisoners staged a revolt on the high seas and killed their captors.
(You should read: Get down to business with Elaine David)
The story goes on to say the captured prisoners regained memory on stepping foot in the foreign land. They remembered home & wished for it. (leading reason for why some believe the well was bewitched).
Still walking further, you get to the point of no return, two poles or pillars or gates looming ahead. You get the feeling that the captured prisoners who were made to pass between these poles never came back. The tour guide will confirm this feeling. Runaways were either shot or had dogs sent after them.
(Click to find more things to do in Nigeria)
A group of people were having a party, playing a game of football and dancing away. The beach is a good place to hide/hang out & have wild fun in Nigeria. The area is secured and safe. You can go on a long walk along the shore line or swim in the water. Make sure you gather all you would be needing for the beach. It is almost impossible to get further supplies on the beach. You can ask a local to please show you where you can go for more supplies. This will take you on a long path through the island to where the inhabitants live. The houses are made of grass, some made of blocks. It is quite a rural setting down to the cows grazing the fields.
After the beach experience, we started our own walk into the island. This was how I knew you can get supplies if you walked into the island. We visited the Perma Culture garden. Perma Culture is the act of renewing the earth and making sure it is treated well enough to sustain human life, animal life and its own self.
We had some coconut water treat accompanied by Ajogun, a local biscuit that tasted really good. We took more refreshments and started to head off the Island, back to Lagos.
The trip was a very interesting one and we thank Travel Next Door for having us come along on this tour. They are passionate about the many places of interest in Nigeria and encourage people to visit more of these places. Follow @Travelnextdoor on Twitter.
You will find pictures from this trip on our Facebook page. Travel Next Door assures us there will be another visit to Badagry soon. We did not get to see the First storey building in Nigeria, the Badagry market, a local event and more. Maybe next time we go, we will stay the night so we can show you what nightlife in Badagry looks like.
Have you been to Badagry before? You can share/send your comments or start a discussion about Badagry or similar points of interest in Nigeria to our Twitter handle @mydnigeria